To Connect or not to Connect?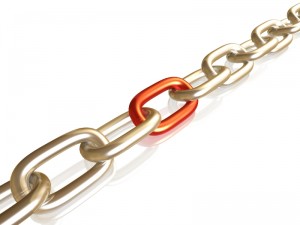 I know it is a generalisation, but we Brits have a habit of shying away from connecting online with people we don't know. Now I can understand this on many websites / social networking sites, as there is personal information there that you may not want complete strangers to know.
But when it comes to business, and business networking, I do not understand why people have such a closed view mindset about connecting to new people.
Take LinkedIn for example. The sites advice doesn't really help. When you go to connect with someone, or when someone sends you an invitation to connect it has a sentence at the bottom of the screen 'Important: Only invite people you know well and who know you.' Isn't LinkedIn supposed to be about online networking? If it was just for people who know and trust each other, is it not just a contact management system, with a chat room facility?
At one of the networking events I attended recently I heard a great response for when someone says they won't connect online to someone they don't know.
"When you are at a networking event would you refuse to exchange business cards with someone as you don't know them well enough?"
No, you wouldn't. Because part of being in business is meeting new people who could either become clients, suppliers, or advocates of your business. You want to connect to them, whether it be online or offline. LinkedIn allows you to update people with useful relevant information and on what is happening in your business, and yes, it then gives them access to do the same back, but so what? I agree I don't want to be sold to constantly on there but it is really easy to 'un-connect' from someone if they start to spam you with sales messages.
If you are really uncomfortable just 'accepting', try replying to their invitation thanking them for the invite, and asking them what interested them in your profile for them to want to connect with you. You may get some great feedback on your online profile!
So open your minds to connecting with those strangers out there, you never know the next one could be that big new client you are sitting waiting for! I would love to know your views, comment below and let me know your experiences of connecting online.